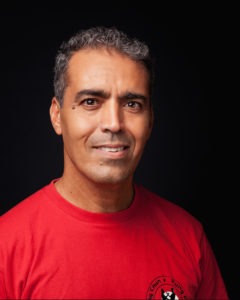 Founder and main teacher of the Wing Chun Côte d'Azur school.
He is state qualified in Chinese martial arts "DE JEPS AEMC" (Session 2009).
He teaches Wing Chun Kung Fu, self défense, Qigong, and personal development since 2005 in Nice.
His martial path lead him to practice multiple disciplines.
From 1987 to 1995: l'HAP KI DO (Korea art of self defense) for 8 years in Austria.
From 1997 to 2010: Wing Tsun (Leung Ting line starting with l'EWTO then Sifu Martin DRAGOS).
From 2010 to 2014: Wing Chun of Grand Master Chu Shong Tin with  internal and energetic tendencies (multiple study trips to Hong Kong and Foshan). Private lessons with Sifu John KAUFMAN and other disciples of GM CST.
From 2014: Snake Crane Wing Chun of the "Lau" family, of Hong Kong (integration end of 2014 as a 7th generation disciple, disciple ceremony and intensive training in the Snake Crane Wing Chun style over three trips to Hong Kong and China with Sifu Wayne Yung, successor of the style.
Teaching of Snake Crane Wing Chun for the first time in Europe since early 2015. Participation in a historical trip in October 2015, following the traces of the art near Foshan in southern China, with a delegation of different countries.
Today Ridha LHIBA is dedicated to teaching a synthesis of everything he has been able to acquire during these different phases of learning. His teaching style isn't limited to the martial and self defense aspect of Chinese martial arts, but goes further to contribute to the personal development of his students.