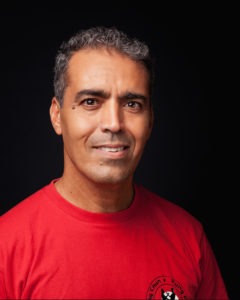 Master Ridha LHIBA (Black Belt 6th DUAN in Wing Chun Kung Fu) is  the founder and head teacher of Wing Chun Côte d'Azur school in Nice, where he has been teaching Wing Chun Kung Fu, Taichi, self-defense, Qigong, and personal development since 2005.
Ridha is a state-qualified instructor in Chinese martial arts and holds a DE JEPS AEMC qualification earned in 2009.
In addition to his martial arts practice, Ridha is also a highly skilled massage practitioner with expertise in various modern massage techniques, including deep tissue, anti-stress, and energetic massages. He is also a master of the ancient art of Tuina massage, a traditional Chinese technique that balances the body's Yin and Yang energies.
Ridha's martial arts journey began with HAP KI DO, a Korean art of self-defense, which he trained in for eight years in Austria from 1987 to 1995. He then moved on to Wing Tsun from 1997 to 2010, under the tutelage of Sifu Martin DRAGOS of the EWTO lineage.
Ridha's interest in the internal and energetic tendencies of martial arts led him to study Wing Chun under the Grand Master Chu Shong Tin from 2010 to 2014. During this period, he traveled to Hong Kong and Foshan for multiple study trips and took private lessons from Sifu John KAUFMAN and other disciples of GM CST. In 2014, Ridha integrated the Snake Crane Wing Chun of the "Lau" family of Hong Kong and became a 7th generation disciple after an intensive training period and disciple ceremony with Sifu Wayne Yung, the successor of the style. Since early 2015, he has been teaching Snake Crane Wing Chun in Europe, contributing to its history and development by participating in a historical trip in October 2015, following the traces of the art near Foshan in southern China with a delegation of different countries.
With his extensive knowledge and expertise, Ridha provides a holistic and rejuvenating experience to his massage clients and martial arts students, and his teaching style goes beyond the martial and self-defense aspects of Chinese martial arts, encompassing personal development.